Lizzie Sleight started Green Grass Greetings in her junior year of high school. She shares the challenges that come with starting your own business from scratch.
Lizzie Sleight is a high school senior who started her own business when schools shut down due to the pandemic. She had always wanted to start a business of her own and when the time and opportunity presented themselves, Lizzie took action. She started testing out her ideas and sharing with her friends the yard signs that she rents out for celebrations.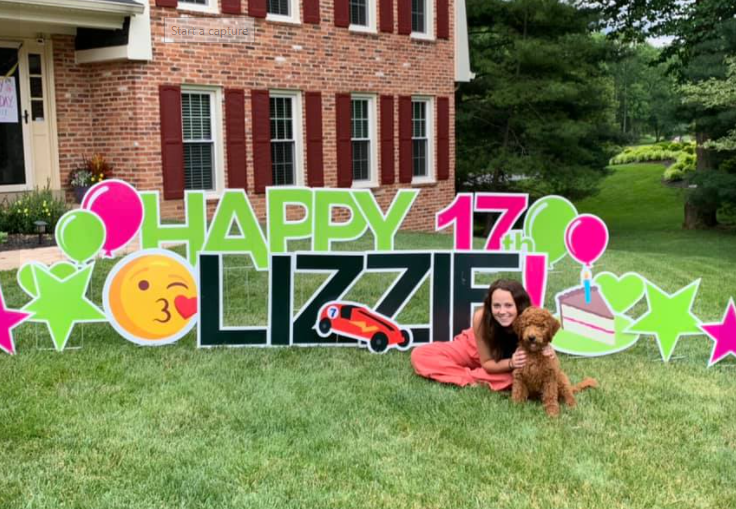 Q&A with Lizzie Sleight
The Ascent: What inspired you to start Green Grass Greetings?
Lizzie Sleight: Green Grass Greetings is a yard card rental service. I've only done this for about a year, even less than a year. It was mid-March when I made the decision to start it and at the time, the state was entering the lockdown. Covid was shutting a bunch of things down including birthdays and celebrations.
A main issue that was really talked about was these poor students in the class of 2020. They aren't going to have these normal graduations. I heard from my family members out west, who do something similar, that they were doing all these yard signs for the seniors.
I talked about it with my family, and we decided that it would be a good idea to start this business, which we had actually talked about a couple years ago. But since I didn't have my driver's license, it didn't really make sense.
It was really just the timing with me being home, and I was old enough, and the opportunity presented itself of needing new and creative ways to celebrate special occasions that allowed me to start this business.
The Ascent: The signs look great. I love driving past them and seeing them. It is great because you don't have to worry about people getting sick, but you can celebrate something.
Lizzie Sleight: Thanks. That was the idea. To have these drive-by parties where you can see these signs and everyone would still feel celebrated.
The Ascent: What can our readers learn from your experience running your own business?
Lizzie Sleight: The main thing that I've learned from my experience is that plans change. When we were talking about this earlier last year, we thought we knew how it would go. We thought we knew the inventory we needed to get. We thought we knew how much money we were investing. We thought we had a solid plan.
We also just rushed into it, so, there were a lot of bumps and a lot of things we had to change. But ultimately, our lives were made easier for that. It doesn't mean that it was bad for you to do anything wrong in the first place. I needed to make these mistakes of pricing to figure out which price would attract and who was willing to pay what.
I needed to make mistakes of which graphics I needed to order and figure out what they looked like and how many signs were actually using cupcakes and how many signs were using soccer.
"It's good to remember that plans change. Nobody expects you to get it right the first time and that's OK."
The Ascent: What have been some challenges you have faced as a small business owner? How did you overcome these challenges?
Lizzie Sleight: I think the first and maybe the largest challenge was the startup process. Initially, I had looked into joining franchises. There's a couple out there. But the startup costs were too high and for the ones in my price range the enrollment was slow and it would take a while for me to get my business off the ground.
So, I ended up deciding to start my own business, but that allowed other competitors to have the time to start their own businesses.
I was struggling to determine if this was something that I wanted to do. Other competitors had already started to build up their clientele, but that was expected. Another challenge I faced is that there was a really hot season in June and May when people wanted to order signs, but I've had months where people just weren't interested. Maybe they were out of town or it just wasn't something that they wanted.
It is something that I need to think about. How can I overcome this? Do I need to market better? Do I need to do sales? How can I attract customers?
The Ascent: What tools have you used to make your business more productive?
Lizzie Sleight: For marketing, we use social media. It is really great to use Facebook and Instagram, especially because most of the time they are free, but sometimes we'll use the boost on Facebook to boost our posts in the community.
Behind the scenes, I use Canva, which I love. I use that to make any infographics, or to make Instagram posts, Instagram stories, but we also use it to design templates for our invoices, so we have that saved in the queue. I used Canva for the logo and the business cards. That's probably my favorite resource that I use.
We also use Venmo for all the payment processing, which is handy. Of course, Google Spreadsheets for our records.
The Ascent: What advice do you have for other small business founders in your field?
Lizzie Sleight: Change is good. What we had to learn was that we had to change some of our graphics.
Make sure that no sign is the same. We had to go out of our comfort zone and maybe mix colors that we didn't think would work. We've had to purchase more graphics, so they aren't the same sign. Make each sign feel more personalized for the customer.
For our Instagram posts, it is always important to post all the time. As annoying as it may seem, it is really what helps gain interest.
Our first round wasn't perfect and we definitely had to spend more money to earn more money. We had to change a lot of things to get into that rhythm of making things work.
The Ascent: What advice would you give young women or girls hoping to start their own business?
I would just say to go for it. Your idea might seem crazy, but just to go for it. Don't try to talk yourself out of it. In the beginning, I went through a lot of back and forth: Is it worth it for me? Are people going to think that it's a good idea? Is this really something that I want to do?
I was surprised and you'd be surprised how many people are interested in what you have to say. Also, be confident in your own ideas. If you don't think your business is going to work, it is not going to work.
The Ascent: How do you manage school and running a business?
Lizzie Sleight: As a senior in high school, I have my classes early in the day. Thankfully, I'm very grateful to have my mom be an active part of this business. She is super willing to help me respond to emails and let me know when they come through. It is definitely something that I couldn't do alone.
I normally spend the first half of the afternoon on schoolwork. In the evening is when I focus on business. That's the time we go out and do the physical signs.
The Ascent: What methods of marketing have worked well for you? You mentioned that you do use Facebook as part of your social media strategy. Are there others?
Lizzie Sleight: Facebook is where we post our giveaways and pictures of the signs. I can tell by using Facebook there is more interest than people just seeing the signs from the streets. All of our signs include a sign with the name of our business and contact information. We also leave business cards at the door.
A big thing that helped us get going was word of mouth. I started by doing free signs for my friend's birthdays or for schools. That helped get communication going and let other people know that I was a business.
I've been out doing signs and I've had people say, "Oh can I get your business card?" Word of mouth has been huge.
The Ascent: What is the most rewarding part of having your own business?
Lizzie Sleight: I think the most rewarding part is just to see that I've been successful starting something from scratch. When I think about it, I'm still a senior in high school, I'm still 17 years old and the fact that I have this up and running. Despite all this help, it is still a part of me that I'm super proud of. It's been rewarding to see other people who are interested in my business.
The Ascent: What is next for Green Grass Greetings? I know you may be going off to college in the fall.
Lizzie Sleight: My family is a huge part of this business. When I leave next fall, my younger brother and my parents will help keep the business going at home.
If we are talking in immediate terms, the next step for Green Grass Greetings is to build our website. We've been talking about that for a while and it is something we hope to accomplish soon, so our customers don't have to go through our Instagram and our Facebook to try and find our contact info.
Taking action makes all the difference
Lizzie didn't wait until she was out of school or had the perfect conditions. She was willing to take action to start her business and make mistakes along the way. Sometimes you just need to get started and get the ball rolling when it comes to starting your own business. Learning how to sell online and market your business takes a bit of trial and error, but taking action is the key.